The easiest (and cheapest!) way, of making your "Sunclock"
layout, is to just paint it on to the ground - but please make
sure that you use good quality, and 'weather-resistant' paint.

This is the method most commonly used by Schools - and it
allows the children to have an outdoor 'art' project, as well as
other curriculum-wide elements, (such as Measurement, etc).


The photograph below, illustrates a painted layout which has
had 'weather' symbols added to it - but you could decide on
almost any theme, or maybe even include your School 'logo'.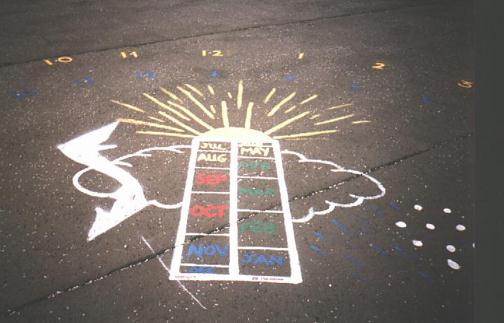 Of course, you may prefer to paint just its basic layout - with
only the central 'Date-scale', plus the rings of 'Hour-markers'.

This keeps things simple - and whenever the paint wears-off,
you could easily create this layout again, with other children.
Schools can use it as an 'annual outdoor project', every year.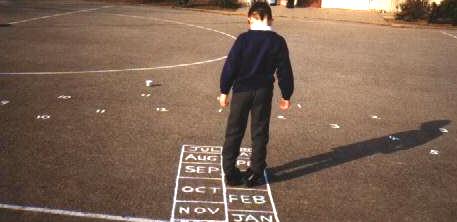 Here is another simple (but slightly more colourful!) painted
layout, at the "Ley Hill Primary School" in Birmingham, U.K.

Like a lot of people, they were both surprised and delighted
with 'time-telling accuracy' of a Human Sundial - plus some
teachers commented that "You could set your watch by it" !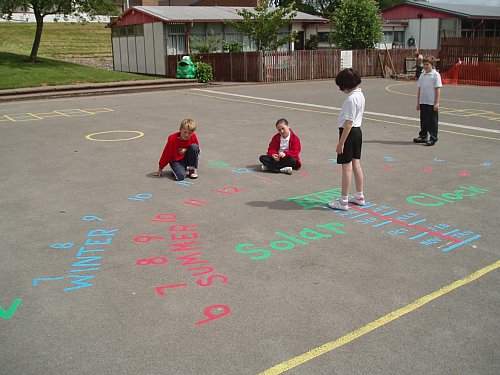 Even very young children (in the 6 - 8 age range) are capable of
painting basic layouts - but setting-out the "Sunclock" is best
done as a 'Teacher-led' project by older children, since it needs
to be measured accurately. All the necessary dimensions, plus
instructions, are given in our Layout Plans - for your location.


The following two photographs show a simple painted layout at
an 'Elementary School' in Shepherdstown (West Virginia, USA).

As you can see, from the lower close-up picture, this was made
by some young children - who are proud of their creation, and
it helps them to remember the name of each month in the year.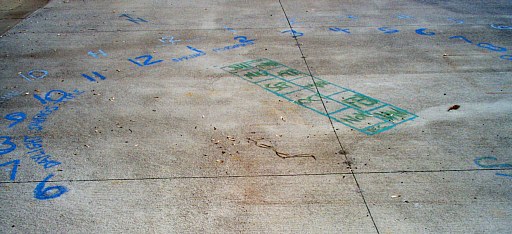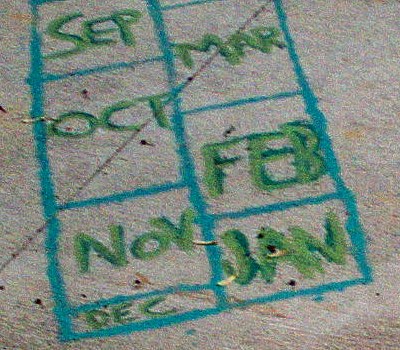 This next photograph, shows a colourful layout being painted on
the playground, at a school in Croatia. They have chosen to use
yellow for the 'Daylight-saving' months of its central Date-scale,
in the summer - and blue for 'Standard time' months, in winter.

The two rings of numbers for its 'Hour-markers' are also painted
in those contrasting colours, to avoid confusion between them.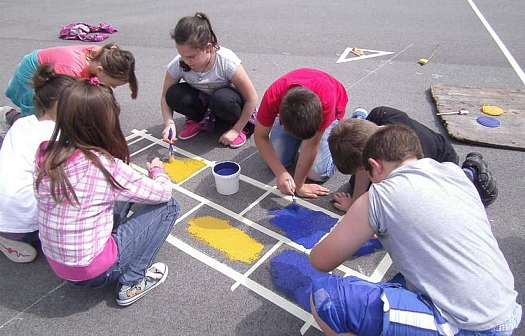 Due to an obvious 'interactive' aspect of our "Sunclocks", they
are illustrated in School-books (both UK and USA) as 'hands-on'
away-from-the-classroom education projects - plus also being
regularly used as the central feature, in 'Community Artworks'.

It is also very popular for any Eagle Scout projects, in the USA.

YOU could make money by painting on school playgrounds, or
much higher profit by supplying 'kits' in a variety of materials !



The next picture shows a very large layout by Marjorie Kouns,
being created at the Alexander Humboldt School in New York.

This was installed for "New York Cares Day", in October 2006,
plus the second photograph shows a 'close-up' of its painting.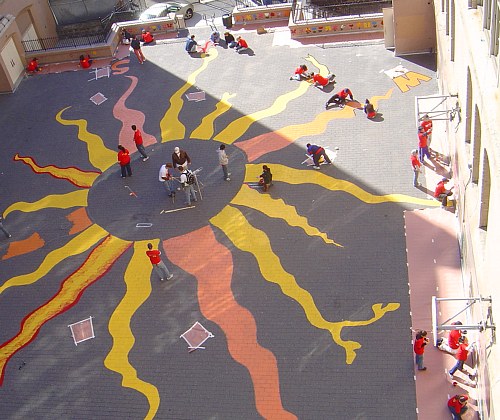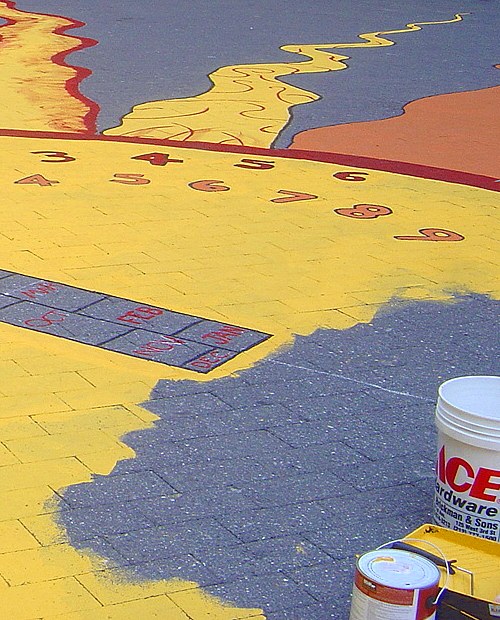 Here is another very similar painted layout, which has also used
the yellow 'sun-ray' effect. It is located within the city of Kutina,
(Croatia) - and a Latin 'motto' which you can see written beside
this, may be translated as meaning "After the clouds, the Sun" !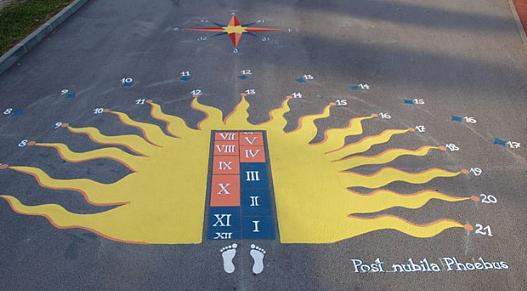 If you want a faster (and neater) technique, than painting by
hand - then aerosol paint could be sprayed through simple
pre-cut 'stencils', available from Simon Bland (who can also
offer kits of resin-cast "Sunclock" parts, in a bronze effect).

Whether it is a simple or a 'themed' layout, it is best to make
sure you protect it from footprints while the paint is drying !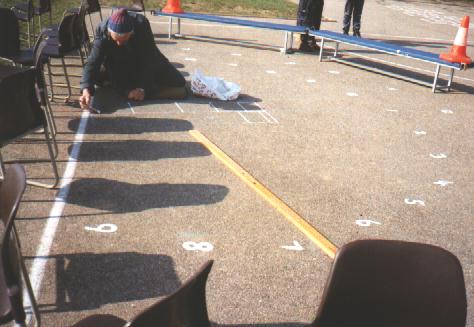 Alternatively, you might prefer "Sunclock" markings to be more
permanent than paint - in which case 'thermo-setting plastic' is
the best material, (used for the white and yellow lines on roads).

You can select from a range of bright colours, that are available.


This photograph, below, shows a typical 'thermo-plastic' layout.

If you should like to have any similar 'interactive' marking - we
suggest contacting "Signet Signs", or telephone: 01275 463601.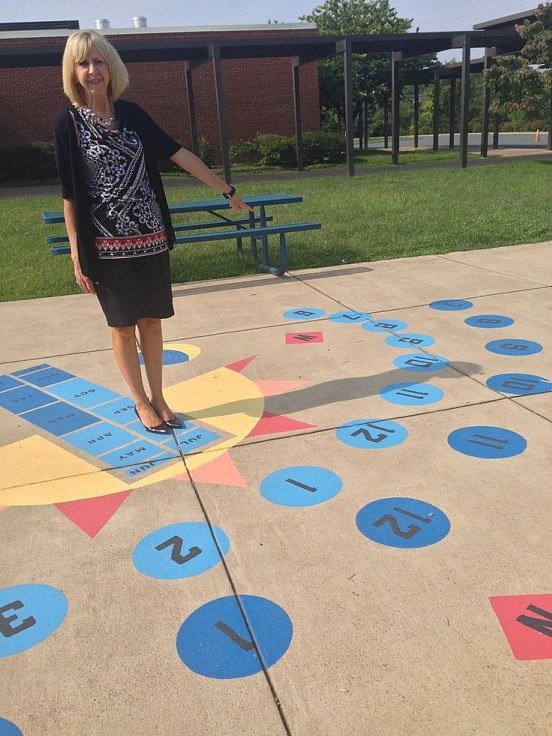 If you are located within the UNITED STATES, please contact
Melinda Bossenmeyer (at "Peaceful Playgrounds", CA) - for
similar Human Sundial layouts, in a 'thermo-plastic' material.

Just remember to insist that you want a genuine "Sunclock",
with a DOUBLE ring of Hour-markers - and that it is to show
true CLOCK time, rather than simply showing 'sundial' time !

'Click' on this picture, below, to visit Melinda's website - or
telephone our USA distributor (Paul Ratto) on: 438 792 4823.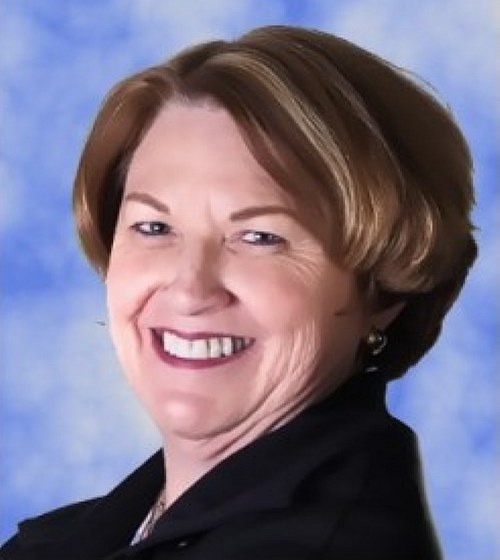 If you may like to use the services of one of our approved
'installers' (listed below), then you must FIRSTLY obtain a set of
Layout Plans, from ourselves - and (if possible!) mark-out your
"Sunclock" in advance, BEFORE using one of those companies
to create this feature, with their 'thermo-setting plastic' material.

Ideally, you should find and mark the true North-South direction
(using detailed instructions, in your set of Plans) - which would
help any 'installer' to reduce time, plus cost, in making a layout.



Such layouts can last for many years, and we would recommend
Surface Signs Limited for installations of that type. As well as a
colourful 'Human Sundial', they also supply many other designs.

For more details, or prices, contact John Bush on: 01702 528940.


This photograph illustrates a layout by Surface Signs - created at
"Stibbington Environmental Education Centre", Cambridgeshire.

The picture was also featured in a Scholastic publication "Child
Education Plus" - shown on page 63 of their October 2008 issue,
where a "Sunclock" is included as one of the best resources to
teach children about the 'change of Seasons' throughout a year.

Click this link to view "Sunclocks" in School-books (UK & USA).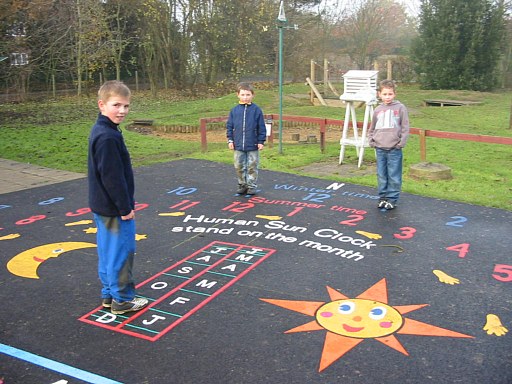 However, if you receive no response from "Surface Signs" then
we suggest trying "Just Markings", plus who have an extensive
experience of installing these unique "Sunclocks" - not just on
a School playground, but within other locations (such as Parks).

Their pricing is very competitive - and for more details, please
telephone Mervyn Garside, on: 0843 289 4489 (Shoeburyness).

Alternatively - click on this link, to contact Mervyn via 'E-mail'.


The photograph (below), shows a typical "Sunclock" layout by
"Just Markings" - illustrating the quality of their workmanship,
and they are glad to create these features anywhere in the UK.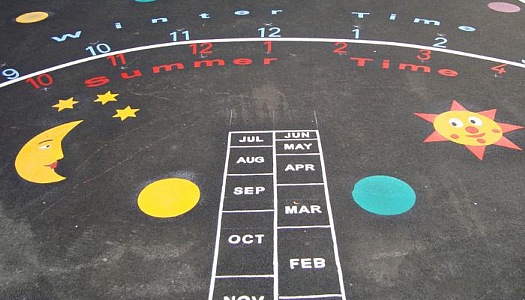 A similar company, with experience of installing "Sunclocks", is
Playground Graphics (based in Scotland) - plus who are glad to
create any 'customized' colourful playground markings. You can
ask for details, by contacting Mandy Matthews on: 01698 291517.

Alternatively, send them an E-mail message by clicking this link.



"AMV Playground Solutions" (in Lancashire) is another business
you can contact - just telephone on: 01704 895331, or by E-mail.



We can also recommend using "Project Playgrounds" for similar
layouts, in colourful thermo-setting plastic. You could telephone
to Jonathan Hamp, for information and prices, on: 01625 829723.

Please make sure that you ask for our DOUBLE-ring "Sunclock",
since they also offer a less accurate 'single-ring', at higher cost !


Unfortunately, their website does not comply with conventional
"W3C" standards, (which will cause problems on some 'Internet
Browsers') - but you can also E-mail to "Project Playgrounds",
if you may need additional details of the services they provide.

Their "Sunclock" installation price is very reasonable, plus this
photograph below illustrates typical school playground layouts.

Notice the 'colour contrast', to clearly distinguish GMT and BST.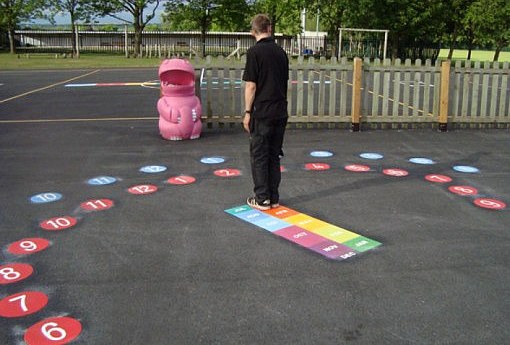 Another business which could install 'Human Sundial' layouts for
you, is Positive Playgrounds. Like those companies above, they
offer many different designs. You can request more information
plus their prices, by telephoning Emma Lucas on: 01702 559709.

So you can visualize "Sunclock" layouts, using this long-lasting
and colourful 'thermo-setting plastic' - the picture below shows
one in that material, which was made by "Positive Playgrounds"
located on a tarmac area at Blackheath Nursery School, London.





See if you can spot a 'deliberate mistake', in the above picture !



Our "Sunclocks" are extremely popular on a world-wide basis,
and this photograph below illustrates a painted layout installed
at "Coomera Springs State School", (in Queensland, Australia).

Because it is located in the Southern hemisphere, please note
that Hour-marker numbers are in the 'anti-clockwise' direction.





For a similar feature, in Victoria - we suggest you contact Gary
Sinclair, at "Brita Line-marking", or telephone on: 1300 369 527.

Within Western Australia, then we recommend that you contact
Darryl Hardingham at "Centrecourt Renovators", who also offer
the "Sunclock" layout - or simply telephone on: 0418 941 317.

For South Australia, we suggest looking at the "Groundsplash"
web-site - or just telephone Colin or Marion, on: 0434 370 534.



If you would like to see some more of the photographs


you can return to our 'Picture Gallery', by clicking on this icon.

OR


Click on Red Button, to return to FIRST PAGE.



Should you have any questions, then please contact us via our
Response Form - or click on this link to see why "Sunclocks"
have become so popular, when compared with other sundials.


Remember you could also make money with Human Sundials,
so please contact us if you may be interested in generating an
income, from this very unusual 'opportunity'. We suggest that
you telephone us, plus ask to speak direct with Douglas Hunt,
whose sundial plans have been in use world-wide since 1986.

Douglas should then be able to discuss several 'possibilities',
and give some advice suited to your personal circumstances.


Our unique sundial designs are located in numerous different
situations - from Schoolyards, to private gardens and Parks,
as well as courtyard sundials at prestigious "Stately Homes".


"Sunclocks" are very interactive sundials for children - plus
all of our sundial layouts are 'customized', for YOUR location,
so you can be sure that it would show the correct clock time.


These are particularly popular within the Educational Sector,
due to many 'curriculum-wide' aspects, of a Human Sundial !

You could click these links to see why "Sunclocks" are now
often used as school sundials, plus the benefits for teachers
(including 'fund-raising') of these novel sundials for learning.


As garden sundials, there are advantages over the 'pedestal'
type - mainly since our ground-level "Sunclock" cannot be
stolen, plus it does not interfere with grass-cutting of a lawn.

Click here to find why this sundial has become very popular,
when compared with some of the other 'conventional' types.



Click on this 'book' icon, to see a list of ALL the pages in our web-site - and
select your choice of category, from within that
'Sitemap'
section :