Due to the popularity of this 'Human Sundial' concept, it is now
possible to buy custom-made 'kits' of component-parts, plus in
several materials - such as stone, brick, concrete, mosaic, etc.


However, those 'kits' are currently only available within Britain,
but we will be glad to discuss this highly profitable opportunity
with potential sources in other countries - especially America,
since any 'ready-made kits' of component-parts are in demand.

As an example, we were recently contacted by a Colorado man
who tells us he could make (and install) any "Sunclock" layout
requested by a customer - so please telephone: 614 791 9933,
plus ask to talk with ALAN, (until his own web-site is available).

If you have an interest in this - please telephone ourselves (in
the UK), or contact Paul Ratto (North American representative),
to let us know which material you would prefer to use for 'kits'.


Likewise, if you are located in Australia and would like to make
'kits' - please contact George Marshall, our 'Distributor' there.

Any person based in Europe who may like to make these 'kits'
should get in touch with our 'Distributor', who is Slaven Licina.


There is a vast world-wide market for such 'kits', as almost any
level area, in a 'sunny' location, is a possible "Sunclock" site !

For example, they could even be created on a flat roof-terrace.

Each layout will automatically become its own 'advertisement',
and many possible materials are shown in this Picture Gallery.



The first photograph, below, shows a 'kit' made of brick - plus
the second picture is a close-up of its Date-scale. Customized
parts such as these, can usually have details added during the
manufacturing process - so as to personalize them with Dates,
Names, Corporate Logos, etc - if requested by the customers.

If you may like to have a hand-made brick "Sunclock", then we
suggest contacting Pauline Muir. Just click on this link to visit
Pauline's own web-site, or telephone 0141 942 9428 (Glasgow).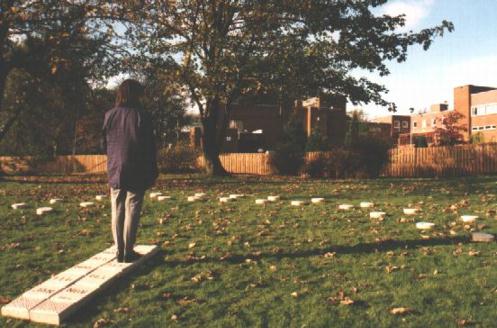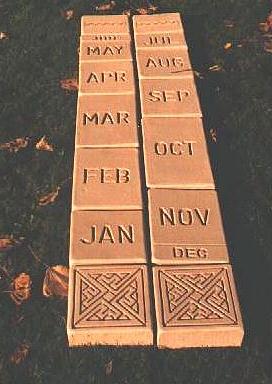 For those people who might prefer custom-made "Sunclocks"
in Portland Stone (plus which is also a much stronger material
than brick), then we would recommend that you contact Sarah
Stewart-Smith. Though these can be fairly expensive, she has
produced several nice layouts - all of which are 'hand-carved'.

Just click on this link to go direct to Sarah's own web-site - or
simply contact her by telephone, on: 01209 831438 (Cornwall).

Here is one of her 'Human Sundials', in Portland Stone - which
is sited within the grounds at Bushey Museum (Hertfordshire),
showing its official opening ceremony at the end of July 2005.

The pictures immediately below it, show 'close-ups' of Sarah's
carving on that layout - demonstrating the quality of her work.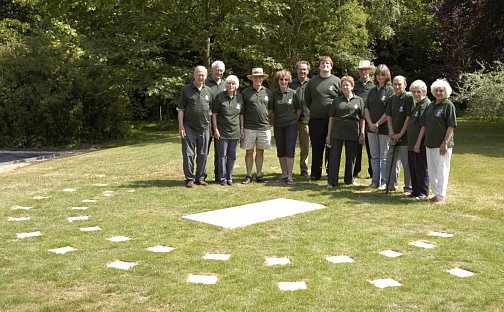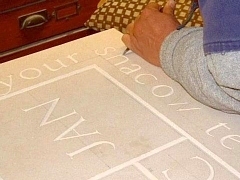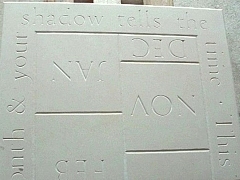 Another lady who is highly regarded in producing 'hand-carved'
stone sundials, is Harriet James. You could click on this link, to
Harriet's own web-site or just telephone her on: (01985) 301517.

She uses various materials, including Slate and Portland Stone.


Alternatively, contact Debbie Simpson who can perhaps supply
'kits' in hand-carved stone - telephone her, on: (01377) 256562.


Andrew Tanser is an artist/sculptor who uses a similar range of
materials, plus you can click this link to visit Andrew's website.

Alternatively, you could just telephone him on: (01763) 852007.



Similar high-quality stone kits could also be supplied by Fergus
Wessel. Click on this link to go direct to Fergus's own web-site
or simply telephone him on: 01993 830590 (in Oxfordshire, UK).

Though we would like to show you some examples of his work,
Fergus requested we do NOT put any pictures on our web-site !



Another person who could supply you with carved stone kits, is
Martin Cook - and you can 'click' this link to go to his web-site,
to view examples of the various sundials which he has created.

You could telephone him on: 01494 880724, (Buckinghamshire).



For layouts exclusively using 'Slate' - we suggest that you visit
"The Slate Workshop" web-site, or telephone Richard Boultbee
in Wales, on: (01994) 419543 - for more information, plus prices.

Richard also creates horizontal and vertical traditional sundials,
but remember that those could be easily stolen or 'vandalized' !



If 'Portland Stone' is too expensive for you, then you can obtain
a very nice kit of parts from "Sutherland Stone" - with a colour
'contrast' between pink Sandstone (for Summer-time), and grey
Caithness Flagstone (for G.M.T. throughout the Winter months).

For additional details and information on specific prices, please
contact Bruce Shelley - on Telephone number: (01408) 633411.

Their web-site is not yet available - but you could instead click
on this link to send any E-mail message, to "Sutherland Stone".

The photographs below illustrate examples of their stone parts.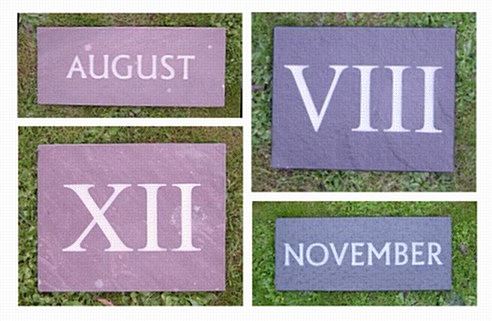 As an alternative to the above kits, in 'natural' stone - you can
also purchase "Sunclock" parts made from material known as
'reconstituted' stone, (cheaper and not as heavy as real stone).
Just click this link, to go direct to the page with further details.


If you are perhaps looking for a more 'colourful' layout, then you
could instead obtain a very nice kit of "Sunclock" parts - which
are made using coloured concrete, with stained-glass markings.

You can decide on any preferred colours for these components,
as well as whether 'Arabic' or 'Roman' numerals would be used.

For further information and prices, please contact Bill Ferguson
at www.glassfootsteps.com - or Telephone, on: 01434 344407.

The photographs below, show some typical 'kit' parts available.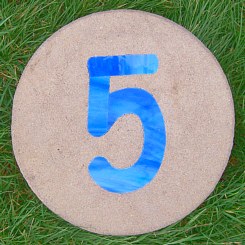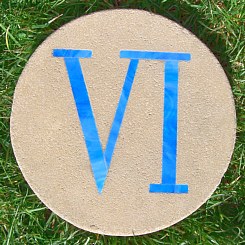 Another less expensive way of having a layout in real stone, is
to contact any local Monumental Masons - plus who probably
have several 'off-cuts', left after making memorial headstones.

As well as such pieces of stone, (which are of no further use to
them, but perfect for "Sunclock" parts) - Monumental Masons
will also possess cutting equipment to engrave all the required
markings (for 'Hour-numbers' and 'Months'), on to those stones.


If you would like to see some more of the photographs


you can return to our 'Picture Gallery', by clicking on this icon.

OR


Click on Red Button, to return to FIRST PAGE.



Should you have any questions, then please contact us via our
Response Form - or click on this link to see why "Sunclocks"
have become so popular, when compared with other sundials.


Remember you could also make money with Human Sundials,
so please contact us if you may be interested in generating an
income, from this very unusual 'opportunity'. We suggest that
you telephone us, plus ask to speak direct with Douglas Hunt,
whose sundial plans have been in use world-wide since 1986.

Douglas should then be able to discuss several 'possibilities',
and give some advice suited to your personal circumstances.


Our unique sundial designs are located in numerous different
situations - from Schoolyards, to private gardens and Parks,
as well as courtyard sundials at prestigious "Stately Homes".


"Sunclocks" are very interactive sundials for children - plus
all of our sundial layouts are 'customized', for YOUR location,
so you can be sure that it would show the correct clock time.


These are particularly popular within the Educational Sector,
due to many 'curriculum-wide' aspects, of a Human Sundial !

You could click these links to see why "Sunclocks" are now
often used as school sundials, plus the benefits for teachers
(including 'fund-raising') of these novel sundials for learning.


As garden sundials, there are advantages over the 'pedestal'
type - mainly since our ground-level "Sunclock" cannot be
stolen, plus it does not interfere with grass-cutting of a lawn.

Click here to find why this sundial has become very popular,
when compared with some of the other 'conventional' types.



Click on this 'book' icon, to see a list of ALL the pages in our web-site - and
select your choice of category, from within that
'Sitemap'
section :