Create your own UNIQUE SunClock:
Popular
Educational
Interactive
Decorative
Theft and Vandalism Resistant
Good for fundraising
Inexpensive
Easy to build
Uses a person's OWN SHADOW to tell the correct time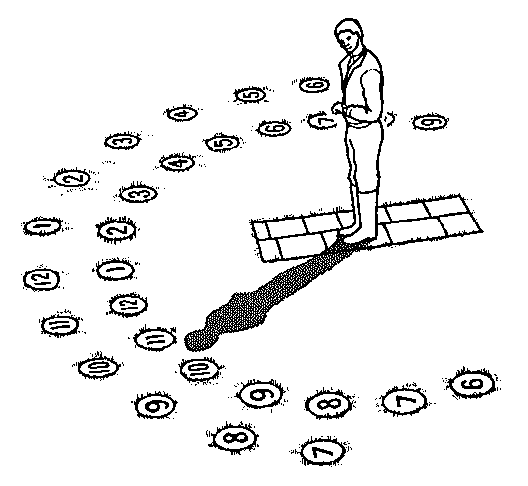 Are you:
An educator, looking for a fun outdoor curriculum-wide educational project for your school that can involve the students as well as the teachers?
An Eagle Scout or Nonprofit Organization, looking for a self-funding community project that can create added publicity in the community?
An architect or landscaper looking for a unique 'conversation-piece' for your customers?
Looking for an original and distinctive project for your yard that can also increase the value of your property?
Looking for a functional, decorative and popular outdoor visitor attraction for a public area, such as a park, nature reserve, museum, exhibition or fair, which will appeal to the public and could even become a focal point for the community?
If so, then a SunClock is for you. SunClocks are Interactive Human Sundials which are tailor-made for your specific location.
Human Sundials have many advantages over regular pedestal mounted sundials.
They are most popular with schools as fun and educational DIY projects that can involve students and teachers alike.
They are a very popular attraction, particularly with children, who love being an integral part in telling the time on our Human Sundials.
Architects, gardeners or landscapers often include them in their projects, both private and public, as a unique, attractive, decorative and novel garden feature that can increase the value of a property and generate further orders.
They can be made using a wide variety of different materials, to blend-in with their location - and (unlike traditional sundials), these cannot be easily stolen or damaged by vandalism.

Testimonials
Sunclock is working great! Thank you for your amazing help!!!

You have been amazing to work with, and I GREATLY appreciate all your help and above and beyond responsiveness.

Thank you,
Patricia and the Berkeley Arts Magnet community

Hi Paul,
It was great to talk to you this afternoon. You're a wonderful teacher! Matt and I look forward to his project

Mike Donelly

Hi Paul,
At long last Matt has completed his project! It is spectacular! …

Mike Donelly
Eagle Scout project for St. Mary's Abbey and Delbarton School

Hi from Omro, Wisconsin.
…
Our project is finished. It looks great and is going to be a wonderful addition to our outdoor education for the School District of Omro.
…
Also, I took your advice of having classes involved and we were able to have two of our math people do some measurements and also our building trades class involved in the actual "stamping" and labor parts of the project.
…
At any rate, we are installing a small marker that has instructions for use. This will be simple, as the sunclock is easy to use!

Barbara Hodgen
Omro High School, WI